Anwaar Co. is a new kind of health and beauty store. We specialize in high quality unadulterated raw materials from across the globe.
We are distributors of the best health promoting items in existence whether they be for internal or external use.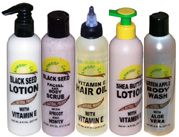 Anwaar Co. carries perfumer grade essential oils as well as handmade ancient attars to scent and beautify. We also carry high grade domestic oils including a wide range of traditional scents.
At our flagship store on Atlantic Ave, you will find a wide variety of highly sought after body butters/oils and black soap from various locales in Africa mixed in with carefully vetted beautifying products from around the world.
Anwaar Co. is a distributor of top shelf creams and soaps from French, African, Indian, and American artisans alike.
Truly a universal beauty store we specialize in high grade super foods and both artisanal and scientifically crafted herbal remedies.
Located in the heart of downtown Brooklyn on Atlantic Ave., we are easy to find, so visit us soon.
We are open 9:30 AM - 8 PM EST, daily.